This Unlikely Entrepreneur Started A Social Business Before Graduating High School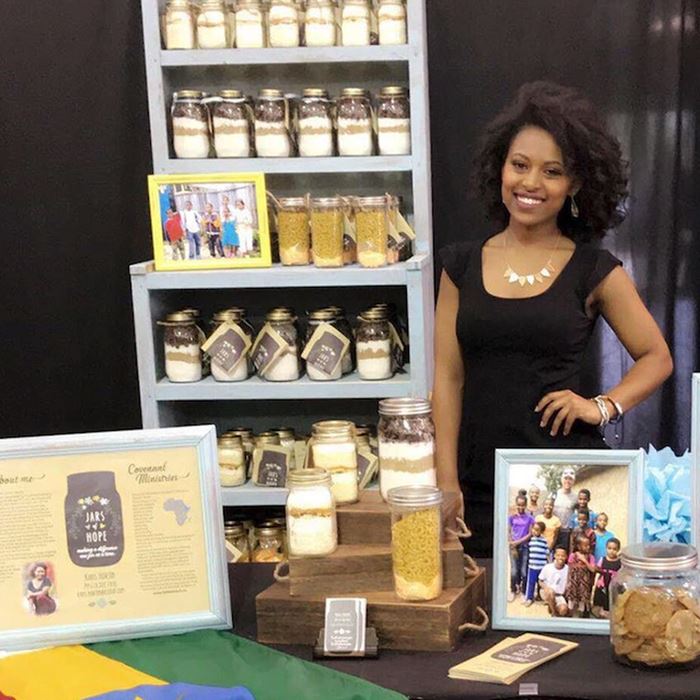 Purpose-driven entrepreneurship has grown in popularity, and it's infiltrated high school programs designed to increase the number of entrepreneurs eager to enter the marketplace. "If you just put meaning into it, it's crazy how many people you can reach," said Lincoln Christian University freshman Karis Hortin.
Before founding Jars of Hope, a pre-mixed meal company, Hortin never saw much of a place for meaning in business. Although Hortin had always had her sights set on meaningful work, she admits she saw business as little more than a way to make money.

That changed when Hortin joined the Midland Institute's CEO program, a community-driven entrepreneurship education program, as a high school senior. Having helped with a friend's CEO project the year prior, Hortin listened closely when a member of the Midland Institute came to her school. Despite plans to serve as a missionary or speech pathologist after high school, Hortin applied and was accepted to CEO, beginning her journey to entrepreneurship.
"I had no idea what I signed up for," Hortin confesses with a laugh. "My first thought was that I better dress up nice and get up early."
From School to Startup
When Hortin began the entrepreneurial program, she says she saw it as a standard high school project. Through interactions with local business leaders, CEO's curriculum, and her own reflections, she soon realized it was much more. Like other entrepreneurs, the mentorship she received made the impossible seem doable.
"As the year unfolded, I realized these people knew what they're talking about," Hortin explains. "They're successful business leaders, but they still took time out of their day. They talked again and again about being meaningful with their business, and that inspired me."
Hortin needed that inspiration to conquer multiple challenges the CEO program — and her venture — confronted her with. To prepare for the capstone trade show, Hortin had to learn everything from product development to basic accounting to marketing. Like many innovators with a great idea and no business background, Hortin had to start from square one. 
Hortin's square one, as it turned out, was at her grandmother's kitchen table. When she asked her grandmother for her potato soup recipe, Hortin's grandmother pointed to a nearby jar. After polling friends on social media, Hortin added recipes like chocolate chip cookies and hot chocolate to her product mix.
Assembling a product lineup wasn't easy. "It sounds fun, but it was the most stressful thing I've done in my life," Hortin explained. "As the [trade show] event got closer, I realized just how much I had to do." Although Hortin initially planned to discontinue Jars of Hope following the trade show, she decided to keep it open for a promotional video and, later, a national trade show. There, she met CEO program alumni who convinced her to continue on her entrepreneurial path.
"I was astonished by how much they cared," Hortin explains, pointing to a young woman she'd met who had decided to maintain the honey business she'd founded rather than attend college. Although Hortin chose to attend college, she soon changed her major from speech pathology to business: "I saw that I could do still ministry through business."
Entrepreneurship Requires Help
During the business-building phase, Hortin turned to God, her family, and her CEO program mentors for support. "I asked anyone who could help me," she acknowledges.
Hortin points out that it was her mother's suggestion to donate part of Jars of Hope's proceeds to charity. After praying on the topic, however, she decided to do more, donating all her profits to the orphanage where she lived until age 9. After fundraising to cover travel expenses, Hortin visited the orphanage in Ethiopia to make the donation in person.
Hortin explains that she'd seen God answer prayers, both through her own experience and the donation, and she came to rely on answers beyond herself. Growing her business wasn't something she could do on her own. As an example, she points to the fact that people kept asking if she'd ship her jars. But because Hortin, by her own admission, isn't particularly tech-savvy, she prayed for assistance. A week later, she received an email from someone who asked to help her set up a website to take online orders.
Hortin says the experience deepened her trust in God, giving her the confidence to parlay her CEO experience into a college career. "I kept hearing God say, 'Would you rather follow your plans or walk the path I have set out for you?'" She began to re-examine her own view of her future and her ability to use business to give back the way she wanted.
She emphatically thanks the program's facilitators, who she says remain some of her most trusted mentors. "I am beyond thankful," Hortin says. "If every state had a program like this, it would have a huge impact." Hortin says she saw the CEO program motivate members of a generation that's often ridiculed for its laziness: "If only we could roll it out to a whole generation."
'Take the Chance'
Hortin's advice to others who might be interested in entrepreneurship or a program like CEO's? "Take the chance. You can't lose anything from it. All you can do is gain." For one, Hortin points out, the CEO program is worth a semester's worth of college credit at many institutions.
But she makes it clear that she gained far more in confidence, discipline, and life insight. Taking a risk on an experience that seemed interesting but far-reaching changed not just Hortin's skill set and confidence level, but also her perspective on how she can impact change on the world around her. 
"You don't have to follow the stereotypical path," she says when asked about her biggest takeaway. Perhaps if more aspiring entrepreneurs lived with their purpose first and their profits second, they'd find a way to drive both — and inspire those around them.