CEO Program hosts business conference
For their class business, this year's Macoupin CEO Program students organized a one-day business conference, held Thursday, Feb. 14, at Lake Williamson Christian Center in Carlinville, with just under 400 people in attendance.
"The event exceeded expectations in every way," said Program Facilitator Pete Visintin, who noted the students received "extremely positive" feedback from the attendees. "From the responses we've received, our attendees left the event changed for the better than when they arrived, equipped with knowledge and inspiration to improve their businesses and organizations."
The conference included breakout sessions featuring speakers Cyndi Zlotow, a serial entrepreneur based in Chicago; Chris Hartsook, owner of Big Dog Construction Company in Carlinville; Cheryl Mitchell, director of management operations for Starfire Industries, LLC, headquartered in Champaign; and Jim Allen, a professional from St. Louis, Mo.. The keynote speaker was Eric Thomas, a leading motivational speaker, author, educator, pastor, and voice-over talent.
In planning the conference, "The students learned to work together with a group of peers they don't know to achieve a common goal, just like they will one day be asked to do in leadership positions on their career journeys," said Visintin. "They got to experience the pressure and planning process of putting on a large-scale public event. It wasn't easy by any means, even though they made it look like it the day of the conference. Behind the scenes, it took months of difficult decision-making and sales activity to pull it off. In the end it was all worth it. They have valuable business experience they will carry with them forever."
The students are currently preparing their individual businesses, which will be launched at the CEO program's trade show, to be held Sunday, May 5, from 4-7 p.m. at Cross Church in Carlinville.
The CEO program is currently recruiting and accepting applications for next year's class. Current sophomores and juniors in all eight Macoupin County high schools can apply online at macoupinceo.com; the deadline is Friday, March 1.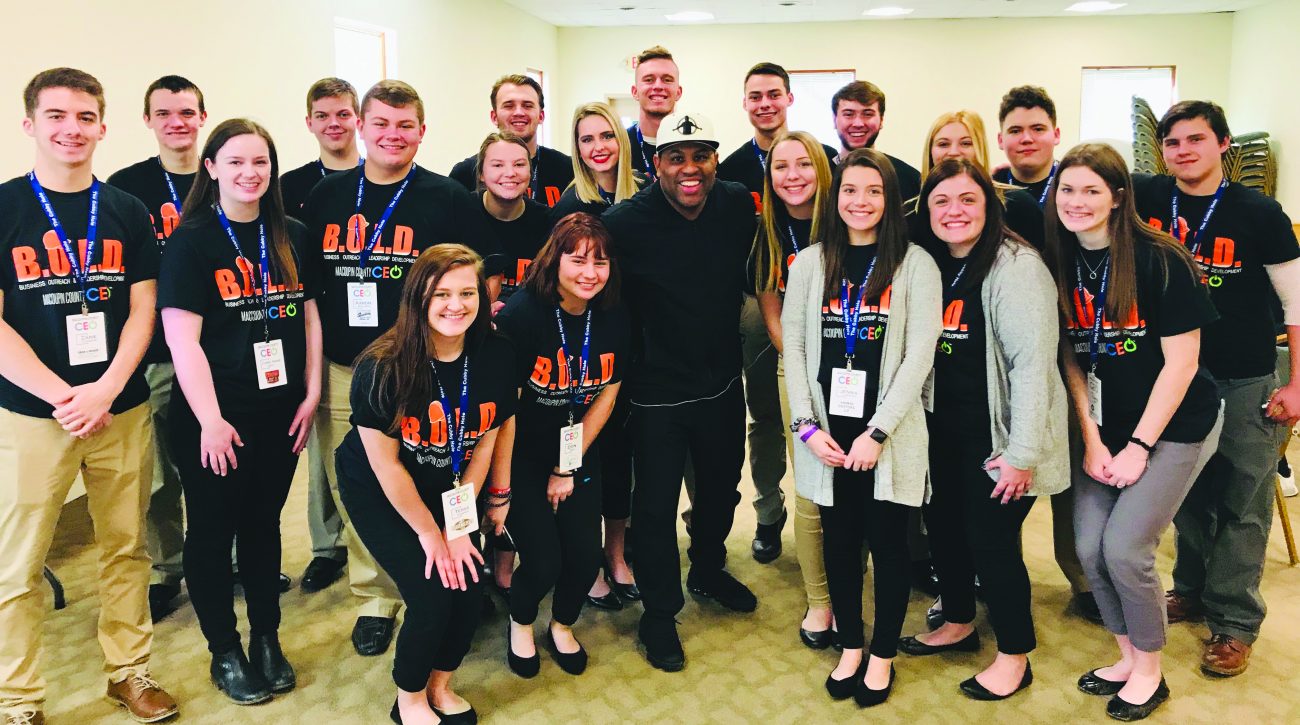 Pictured are, from left, Zane Thompson, Ben Reno, Cora Anne Gray, Steven Thyer, Aaron Williams, Tessa Mumper, Julie Butler, Haiden Zumwalt, Erin Wall, Macy Wellhausen, Daniel Jarden, keynote speaker Eric Thomas, Garrett Smith, Rylee Jarman, Jenna Carrigan, Jared Dunnagan, Madelyn Legendre, Macy Walker, Quintin Zillen, Emma Smith and Dakota Stagner. Photo courtesy of Carrie Harris Photography.