A Night to Savor
Four years ago, Bree Davis was a member of the first Granite City High School CEO (Creating Entrepreneurial Opportunities) group.
Now, the GCHS graduate has her own business, Everything K & E, which creates personalized products for any occasion. It has been open since February.
"It's awesome," Davis said.
Davis returned to her alma mater on Dec. 5 to display her business at the Granite City CEO's Savor the Season showcase at the GCHS cafeteria. More than 40 businesses from the Granite City area attended the two-hour event.
"It's really awesome being back and seeing all of the teachers and the mentors I've worked with," Davis said. "I still keep in touch with most of them. It's good being able to show that the things they taught me were actually useful because they helped me with the business I have now."
The event also included a silent auction, a 50/50 raffle, an ugly sweater contest and a photo session with Santa Claus.
CEO member Toni Rush said the event gave the group a chance to connect with local businesses.
"I love the community and I love how they came together when needed," she said. "I'm really proud that we got the community to come together and that was one of our biggest slogans. We wanted to bring the community together for the holiday spirit and I'm really grateful for this community."
Rush, Ryan Boschert, Ryan Ferriera, Jade Heuer, Toby Jones, Brooke Meyer, Lauren Roethemeyer, Eleanore Schwering, Logan Smith, Sam Stegemeier and Joseph Thomas made up this year's CEO class. Karen Greenwald is the facilitator.
Davis, who graduated from GCHS in 2015 and attends Southwestern Illinois College, said she was pleased with the way this year's group organized the event.
"I liked the winter theme and I feel like they did a good job," she said.
The Granite City CEO is in its fifth year. The program, which started in 2014, helps prepare seniors to be responsible individuals in the business world. The students meet off campus every day, either on a business visit or at a host business.
"I absolutely love it," Jones said. "From day one, it was all smiles. I'm learning everything new and meeting new people. Before (I joined) I couldn't shake anybody's hands or talk. But now, I can walk up and start a conversation with anybody and ask them how their day went. By the end of the day, I'll know everybody. It's pretty cool and it's a blessing."
Schwering, who transferred to GCHS from Gateway Legacy Christian Academy this year, came up with the idea of the Savor the Season event.
"This is just growing the CEO program incredibly," she said. "We have volunteers from the junior class who want to be in the program next year, so it lets them have a taste of what it's all about. This event is all about the community, so what we wanted to do is to get businesses here and have potential clients come in so they can see what those businesses can do for them. So everyone just grows from this."
Businesses that attended 
First MidAmerica Credit Union, Three Little Birds 4 Life, Century 21 Bailey & Co., Community Care Center, Darin Chiropractic, Dixon Mechanical and Rental, Everything K&E, First Bank, GCS Credit Union, Granite City Park District, Icon Mechanical, Illinois Electric Works, LJW Tax Service, Local Business Patriots, Nicol Financial Services, Port Harbor Railroad Corp., Push Media Solutions, R&B Wood Art, Relleke Pumpkin Ranch, Shipley Chiropractic, Shirts Galore and More, Six Mile Regional Library District, The Nicol Foundation, The Bank of Edwardsville, Bindy's, Duke Bakery, Itty Bitty Restaurant, Jacobmeyer's , Jerry's Cafeteria, Kool Beanz Cafe, Lascelles, Ravanelli's Restaurant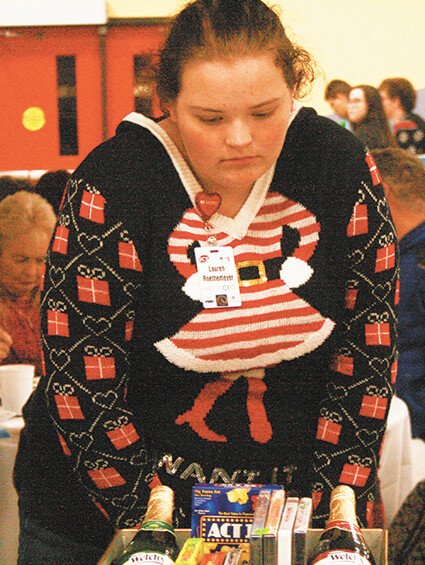 Lauren Roethemeyer looks at silent auction items.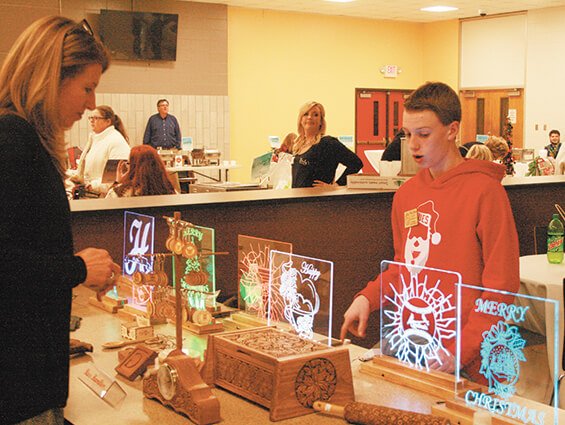 Bryce Griggs of R&B Wood Art talks to a customer.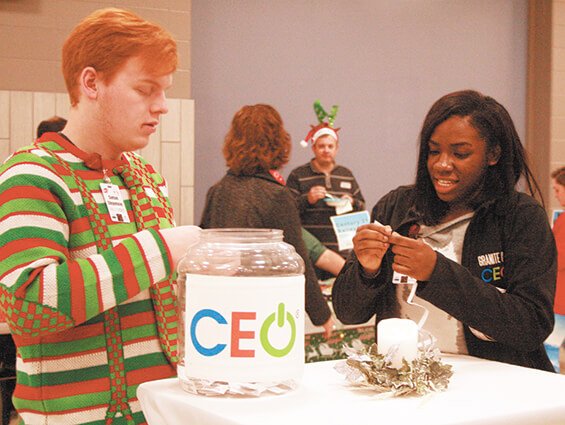 Sam Stegemeier (left) and Toni Rush work on 50/50 raffle tickets.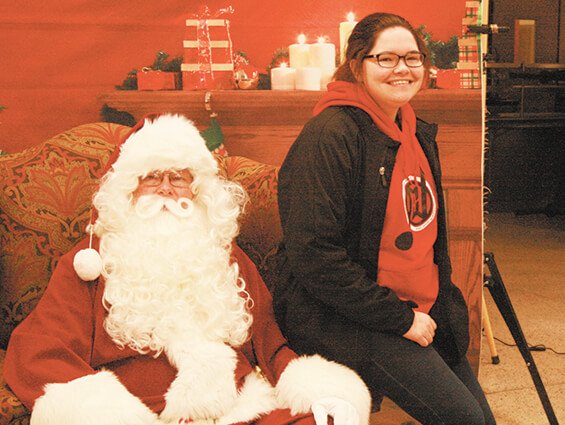 Marissa Lahey, a 2018 GCHS graduate, poses with Santa Claus.