Land of Lincoln CEO Alumna Emma Schoth takes 1st place at ISU Startup Showcase with Drake's Toys
The Startup Showcase experience was very different from the CEO trade shows Schoth participated in earlier this year. For one thing, instead of an eight- or ten-foot booth, she had a small cocktail table. 
"In the past, I had a much larger space to present my business, so it was very difficult for me to be so selective on what to show," she said.  
Another difference was the structure of the competition. The finalists were selected by a panel of ISU Business School faculty based on the initial event applications, then notified that after noon, shortly before having to make a Shark Tank-style presentation and answer questions in front of a panel of non-faculty business professionals and a live audience.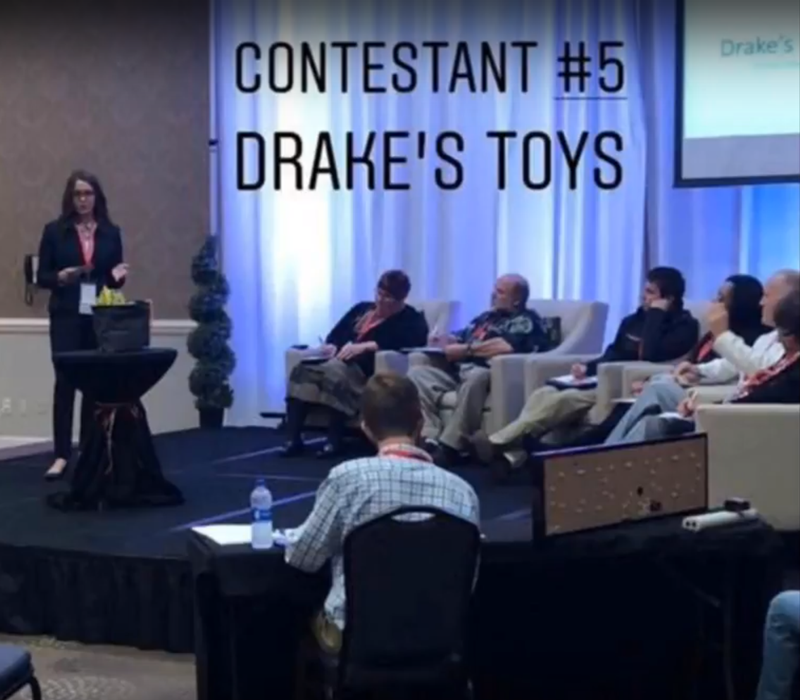 "The judges asked questions about different aspects of our business, [but] the judges had not seen our previous applications, so they only knew what we presented to them. It was very nerve wracking," said Schoth. "At the beginning of the process there were around thirty contestants, but by the time the trade show came around only fifteen remained. There were some businesses that were only ideas and others that had thousands of dollars in profits. 
"It was awesome to be around people who had a similar mindset as me. We described it in CEO as people who 'get it', meaning that there is always an obvious difference between those who always desire to run the extra mile to strive for greatness, and those who just don't get it. At this trade show, similar to the other ones I have done in the past, I was around people who get it. The businesses were all very different and creative." 
As part of the Startup Showcase, Schoth also attended the ISU College of Business's Entrepreneur of the Year awards program where Destihl Brewery's Matt Potts and ISU alumnus Corey Ferengul were honored. 
"It was an awesome networking experience, and I was able to make some amazing connections that will help me in the future," she added. 
Schoth plans to invest her Startup Showcase prize money in additional inventory, completing her website development, and an advertising plan for targeted marketing to grow subscriptions. Eventually, she'd like to design and manufacture her own line of branded toys. 
"As for the future, I am very excited to see where the adventure will take me," says Schoth. "Overall it was an amazing experience that will really help me get my business of the ground. None of it would have been possible without the skills I learned in CEO, and I really do owe my success to the program. Before CEO, I never would have seen myself doing the things I am doing today. I am forever grateful for the endless opportunities it brought me." 
The current LLCEO class made a site visit to see Schoth at the Startup Showcase competition, but weren't able to stay for the final presentations and winner announcements. LLCEO Facilitator Britta Langley said it was a great experience for the class and she plans to keep the event on the CEO calendar for next year.