Former band students, school pay tribute to Craig Lindvahl
The Teutopolis High School Band spring concert on Sunday became a tribute to the man who taught and influenced countless students not just about music, but about life itself.
Dubbed the Lindvahl Legacy Band Concert, about 65 of Craig Lindvahl's former students performed with the band and several paid tribute to how their former leader helped shape them.
"You taught us humility," said Suzy Kitten, a 1996 Teutopolis graduate, now living in Champaign. "I remember not making first chair and you told me if I tried hard, I would succeed. Your belief in me became my belief in myself."
Former student Lucy Probst called Lindvahl their "salvation."
"You're a role model for this community," she said. "When I think of band, I think of Mr. Lindvahl and his humor. ... He was that breath of fresh air."
The school's band room will be named after Lindvahl and The Lindvahl Legacy Scholarship has been created for band members who encompass the essence of the long-time teacher, who is also a filmmaker and past recipient of the Effingham Daily News Citizen of the Year.
The scholarship will honor band members who show outstanding character and integrity, school and community involvement, and passion for music and the arts.
After the concert, Lindvahl, who was diagnosed with Stage 4 pancreatic cancer late last year, said he was astounded by how many students came great distances to thank him.
"It's unbelievable to see all these former students and to know that what we did together means that much to them," he said. "It means so much that they would take the time to come all the way back here. It's completely overwhelming."
Lindvahl wouldn't take any credit, though.
"They are just extra-nice kids," he said.
Lindvahl was the band director from 1979 to 2008. It was then that he left that position to become the first-ever Creating Entrepreneurship Opportunities teacher. The CEO program has grown into an award-winning curriculum under his leadership. In 2016, the program was in 40 communities and six states.
As for the success of CEO, Lindvahl, who no longer teaches the program, said the program continues to be associated with "great kids and great people" who drive it.
For former student Emily McCabe, 34, of Champaign, it's Lindvahl's indelible mark he made on those he taught that she remembers most.
"If you think about Teutopolis being a small, rural, farming town, you don't think about band being a big part of the kids' lives," said McCabe after the concert. "But, because of Mr. Lindvahl, band was cool."
"There's no other teacher you'll meet that's like him," she added.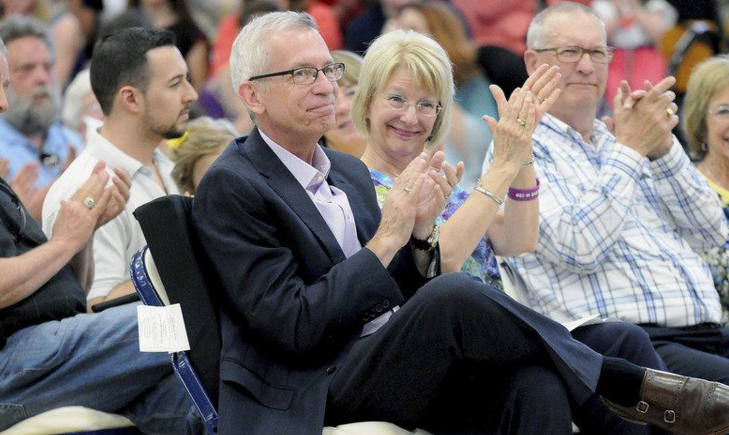 Source: Effingham Daily New
By: Dawn Schabbing