Entrepreneurial students prepare for annual dinner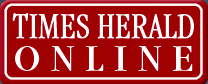 Fourteen area high school students gathered in a conference room on the fifth floor of the German American building on Tuesday morning. Spread across the table were stacks of envelopes and flyers promoting the group's upcoming event, An Evening with Young Entrepreneurs.
The students collectively known as the Daviess County Creating Entrepreneurial Opportunities (CEO) class will host its second annual fundraiser on Jan. 28 at Antioch Christian Church. A silent auction will begin at 5 p.m. and dinner will follow at 6 p.m. The dinner will be presented by Carla's Catering and this year's entertainment will be Daniel Cullen, a mentalist. Among the items donated for the event's silent auction are Cincinnati Reds and St. Louis Cardinals baseball tickets, Purdue football tickets, Big Splash Adventure tickets, various gift baskets and gift certificates to area restaurants.
Cullen, who earned a degree in Business Management from the University of Southern Indiana in 2011, has performed with musicians Billy Ray Cyrus, Miley Cyrus, Emily Osment and Hall of Fame baseball player Don Mattingly. He has also performed in front of sold-out crowds at the Red Skelton Performing Arts Center in Vincennes and at the 2008 Miss Georgia pageant. He is the son of Dr. Stephen and Sharon Cullen of Washington.
"I'm honored to do it," he said. "I was in DECA in high school with Bill Turner (the CEO supervisor). I think it's great for students to do events like this before they get into the corporate world."
Washington Catholic senior Layne Fowler said the decision to hire Cullen was an easy one. "We wanted to mix it up and we thought the crowd would really like Daniel," she said.
Last year was the first year for the county's CEO program, but that didn't deter a crowd of over 100 people attending the inaugural event. The event's main sponsor is Chuckles, however proceeds from the event will help fund the spring trade show as well as future CEO classes. Washington senior William Wittmer and Barr-Reeve senior Blane Fuhs said the event helps inform the public about the CEO program.
"It's a good learning experience for later," Wittmer said as Fuhs added "It gives the public an insight into what the CEO program because a lot of people don't know what it is."
The CEO program began in Effingham, Illinois and is open to high school juniors and seniors through an application process. The Daviess County students are supervised by Washington High School teacher Bill Turner, who acts more as a guide instead of an instructor. The group meets for 90 minutes before school at local business. Through the class, the students learn what it takes to succeed in business as they develop their individual project. Those projects are then marketed at the trade show in the spring.
Tickets are $35 each or $200 for a six-person table. The dinner will include two entrees, vegetables, salad and dessert. All tickets must be purchased in advance by contacting Darla Miles at the Daviess County Economic Development Center at (812) 254-1500 or via email at Daviesssceo@gmail.com.