August: Network Newsletter
It's here! We are excited to share with you the first newsletter of the school year, created by the Midland Institute, with you in mind. Look below to read stories and inspiration from our CEO Network for a behind-the-scenes look at what you've helped accomplish by being a part of the extended CEO Family. Thank you for reading!
---

Family Matters
You share roots with individuals you've never met.
Did you know that your CEO family extends outside the boundaries of your own community? When you become a CEO student, facilitator, investor and/ or mentor, by default, you become part of our CEO network. Like any family, the branches on our family tree grow in all directions: east, west, north and south. This means that you share roots with individuals you've never met. These are individuals who boast a broad range of talents, knowledge and resources, who are looking to connect with people like you!
As we're sure you've heard, to foster this network, Midland Institute has launched a social media platform: CEO Connect. Our hope is that you utilize this networking tool to meet new people with whom you share common ground.
Take a look at http://midlandceoconnect.com to reach out and connect with your extended CEO family today!
---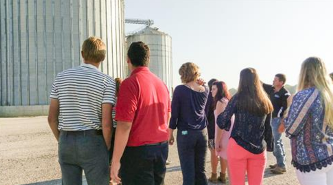 One Grain at a Time
CEO brings life to Communities.
Entrepreneurship is relevant in every sphere, which makes CEO an investment for any community. Read how CEO students in Crawford County connect entrepreneurship with agriculture, specifically, and see how CEO is enriching its students as well as its communities.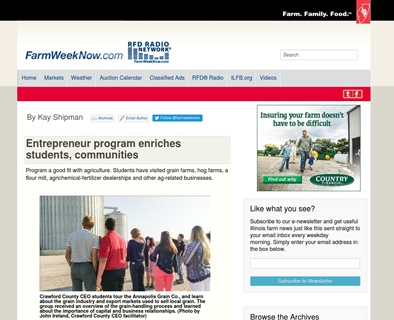 Click to download the Farm Week Now article
---
Zachary Mette: Shining light on quality and service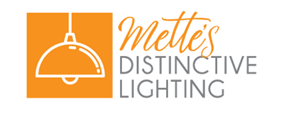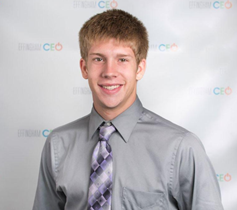 CEO alumnus, Zachary Mette, is a hard-working, young man with a very bright future. Though he is just nineteen years old, it is clear that the entrepreneur (and soon-to-be graduate of Kaskaskia College) has the 'keys' to success firmly in his grasp... And he knows just how to use them.
With an entrepreneurial family history, the 2014-2015 Effingham County CEO graduate took well to the CEO program and its various challenges. He approached each task with vision, enthusiasm and a work ethic that he undoubtedly developed while working part-time at Mette's Cabinet Corner, his family's local business.
But when it came time to decide on a personal business, the Teutopolis native, was at a loss.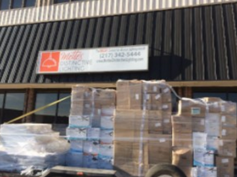 "It was all really fluid until I had to come up with a business plan," said Zachary, who courted several ideas before landing on the right one. "The idea didn't dawn on me until a few weeks before Easter."
In fact, Zachary's entrepreneurial epiphany gave a whole new meaning to the phrase, "lightbulb moment." Stemming from his family's own desire for custom lighting with local service, Zachary crafted a business model that catered to the needs of an entire community… his family included.
"There is a large demand for full service around here. People want more than just a sale," said Zachary, whose business quickly outgrew its first home: a 1,000 square foot shed. "We had people show up at the house on the weekends... The CEO Experience definitely had a hand in that."
Indeed, word of mouth has been a powerful marketing tool for the young entrepreneur. Already, Zachary has outfitted entire homes in his customized lighting. He was also the first, in Effingham County, to install LED tape lights under kitchen countertops.
"I don't think I'd be where I am without CEO," said Zachary, who referenced networking and innovation as a few of the 'keys' to his success. "The program urges students to open their minds to a different way of thinking... There's no doubt, the future is bright with CEO alumni in it."
On October 31, 2016, the Effingham County CEO graduate officially unlocked the doors to his first professional showroom for Mette's Distinctive Lighting. The showroom is located at 1901 S. 4th Street, Suite 11 in Effingham, Illinois.
If you'd like to learn more about Zachary and his story, or view the store's products or services, please visit http://mettesdistinctivelighting.com/About.asp.
---
The Kitchen of Life
Lift up your head, explore, and be amazed.
Life is busy. Whether it's a project at work, a new school year, or combination of other life challenges, sometimes it's hard to slow down and make sense of it all. Craig reminds us that even in that busyness, if you just lift up your head, you'll see that you're surrounded by countless exciting people and opportunities. Go ahead, lift up your head, explore, and be amazed.
Interested in hearing more life lessons from Craig?
More Info